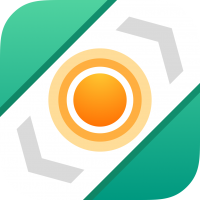 Do you have a long list of favorite Street View panoramas? Streets 3.2 now lets you organize favorites in your own folders so you can group them by topic, region, vacation or any other means. Simply swipe the item to the left to reveal the
Edit icon – or type Cmd E on an attached keyboard (More on Streets keyboard shortcuts). Then select a folder or create a new one. You can also rename locations if the automatically determined name isn't quite right.
Good news also for Apple Watch owners: Streets for Apple Watch now lets you rotate panoramas using motion detection, simply by turning your wrist. Just try it out, it feels a lot more natural! If you prefer to rotate using the Digital Crown, you can still do so by tapping onto the panorama to select it. When selected, it displays a green border.
More news in the Streets 3.2:
By request from some users we now save pin drops in the list of recent locations, too.
Improved Spotlight indexing
Added a good number of Gallery Places so we're at 2000+ now.
The blue coverage layer that recently broke due to a Google change is now working fine again.
Fixed the floor picker for multi-level locations
Fixed a few crashes and bugs
Grab Streets 3.2 from the App Store now.
Update 10.12.16: Streets 3.2.1, released today, displays the address and lets you favorite the pin even if no panorama is available.