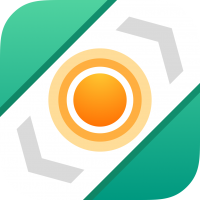 A big update for Streets is available. Up until now, some of the panoramas marked with a blue dot in the coverage layer couldn't be opened. Streets 3.5 now shows those user-generated panoramas. These cover areas off the roads photographed by Google's camera cars, such as mountains, beaches, parks and more. Go explore the nature!
The drawer at the top shows more information about the panorama, including the photographer for such user-generated panoramas. For some panoramas, you can even switch to the Where To? app for more details (if installed).
New in Streets 3.5, we improved the URL scheme support: You can now create powerful workflows to grab Street View panoramas for specified locations. For instance, you can create a workflow that automatically fetches panorama images for contacts, event locations or other places and puts them into a note, a social media post or whatever. Since Workflow was acquired by Apple, it lacks the command to obtain Street View imagery for a given location. Streets now fills this void. More info including a sample workflow on our Streets API page.
Grab the Streets 3.5 update now and don't forget to rate it if you like it!