See what's around you in an easy, fun new way
Where To? is an incredibly easy way to find the closest steakhouse, bank branch, billiard club or anything else you might be looking for in seconds — whether you are on vacation in Paris or in your own back yard!
"I first got [Where To?] when I went on a family road trip to Edmonton, and it was great for finding awesome restaurants, shops and helpful places along the way."
★★★★★ App Store review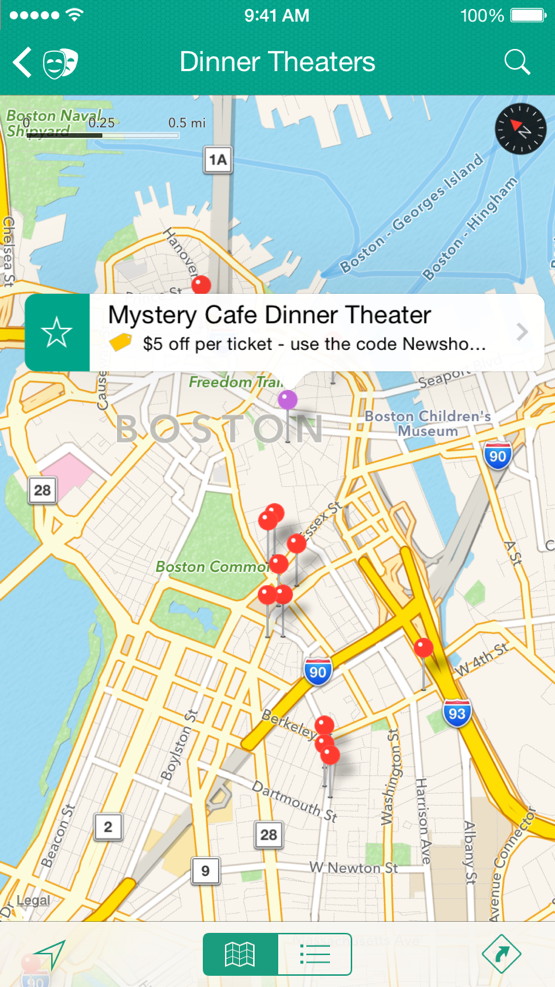 No typing or map-reading skills required
Where To? will simply get you where you want to go with a fun, painless interface that caters to your personal preferences.
See your options on the built-in map or in a list sorted by distance.
With just a few taps, you can find any type of place you are looking for close to wherever you are!
"I used this app on a 1200 mile car trip and it found all I needed using my thumb while driving (gas, food, tire repair). Great app!"
★★★★★ App Store review
Feel like a local when out of town
Whether for work or pleasure, the first time in a new city you sometimes feel lost without a local guide. Now you can have one in your pocket! Whether you find yourself in a difficult situation or you're just looking to see the local sights, Where To? will help you find what you are looking for.
Where To? provides you with photos, videos, descriptions, special offers, business hours and more. All you have to do is choose — then call to make a reservation or check the place's homepage using the built-in web browser.
"I was lost in Huntington Beach. (…) My little fuel light was on and I needed gas bad[ly]! Used Where To? and bing, bang, boom… gas station was two blocks away!"
★★★★★ App Store review
Where To? for Apple Watch
Show your favorite places, select your favorite category or use Force Touch to search by voice. And Where To? displays nearby results on your Apple Watch in a snap.
Your favorite spots on your wrist
Description, business hours and reviews: Where To? has you covered. Use Force Touch to mark or unmark a place as a favorite.
Search places
Start a turn-by-turn navigation with tactile feedback or use Handoff on your iPhone to beam the currently viewed place from your wrist to your iPhone. Useful to make a call or check the website!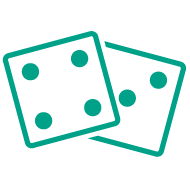 Feeling adventurous? Let Where To? decide!
Not sure what you want for dinner tonight? Just shake your iPhone® and let Where To? decide. Take a chance and find something new and exciting!
Need help choosing? Get ratings and reviews to help you decide
Is the food delicious? The service great? Where To? collects and displays ratings and reviews from all Where To? and Google users.
See what's on the menu right from your phone
Where To? includes dinner menus for almost 500,000 US restaurants. Compare the menus to select your favorite dining location or decide what to eat while you're waiting to be seated!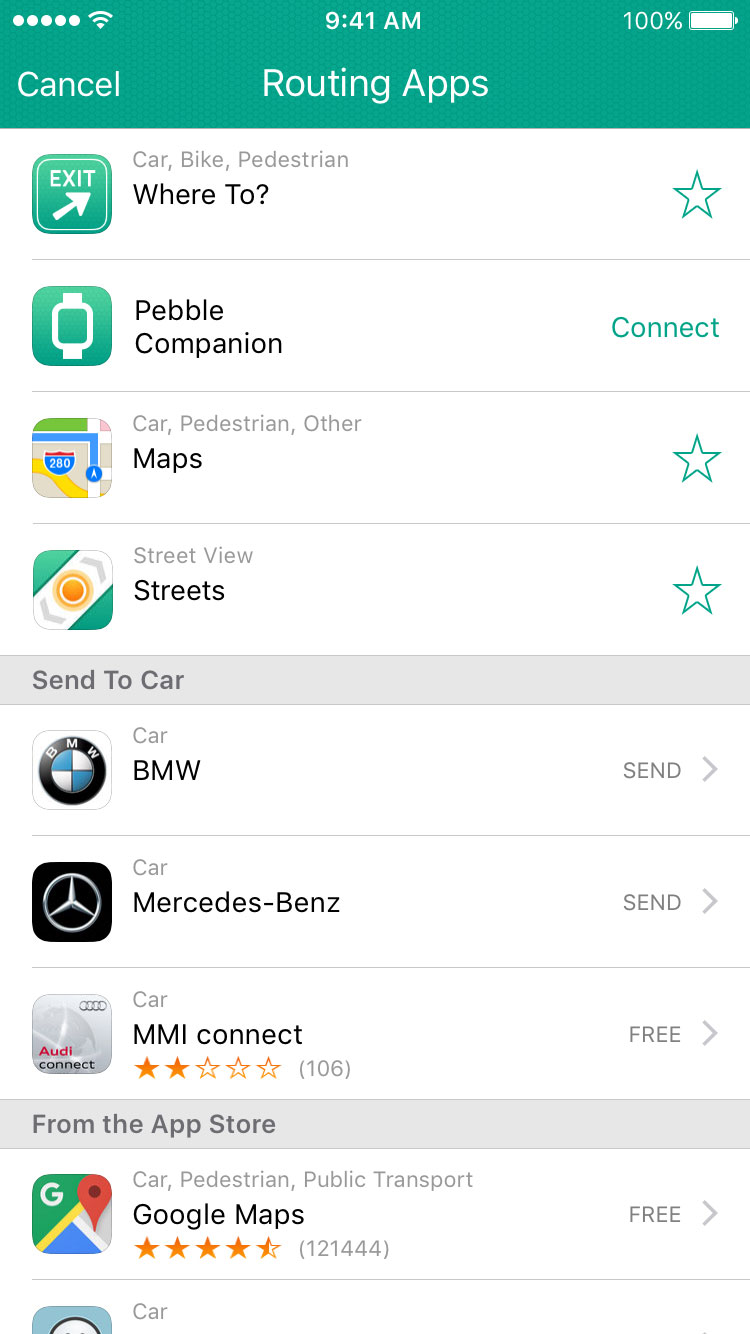 Made your choice? Now let's get there!
Whether by car, bike, or foot using the built-in route planner or any of more than 60 apps from the App Store Where To? gets you where you want to go. The standard Maps app, Google Maps, Waze, Here WeGo, Sygic, and many others are also supported.
Turn the key and let your car guide you to the destination
You can send locations to supported onboard navigation systems from BMW, Mercedes-Benz, Audi, and Porsche.
Have a Pebble smart watch?
Use your Pebble to reach your destination. The free Pebble companion app displays the direction and distance so you can keep your iPhone in the pocket while walking or driving.
"In an unfamiliar town, I was able to navigate to and from the airport, the rental car lot & my son's home. I used the map and the turns list which showed me the street by street turns I needed to make"
★★★★★ App Store review
Found something you like? Save it for next time!
Found a new shop or restaurant you'd like to visit with someone special next time you're in town? Save your favorite restaurants, shops and places to find them later easily – automatically synced through iCloud®.
Share what you find and let your friends know!
Wanna meet with some friends at the great new Sushi place you found? – Pass along the location info by AirDrop, email, text message, Facebook or Twitter. Or add it to your contacts.
¿Habla español?, Parlez-vous français?
You're going to Mexico and don't know what a "Hair Salon" is in Spanish? Where To? searches in 11 different languages and translates all categories to the local language on-the-fly.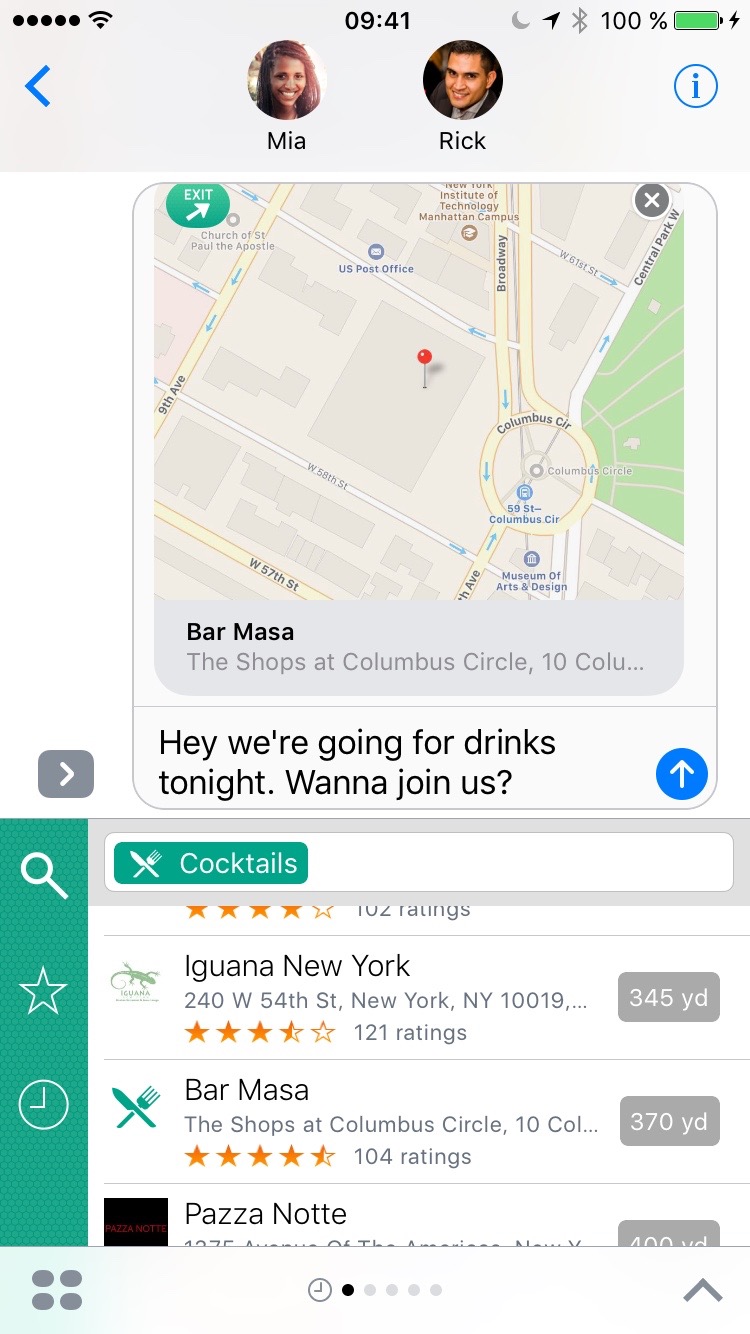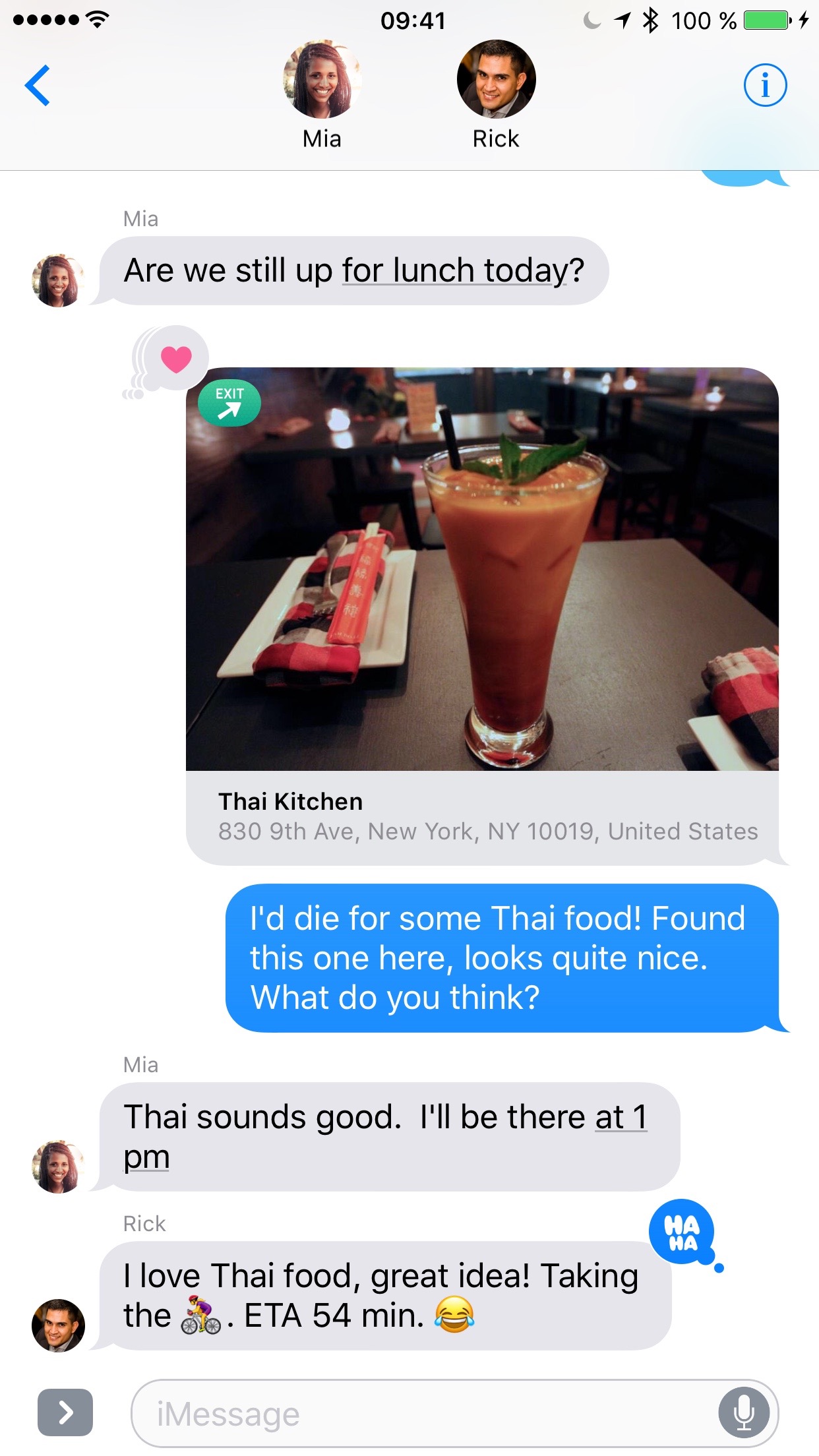 Where To? for iMessage
The included Where To? for iMessage app allows you to search for locations and share them with your friends in a conversation. Whether you're meeting for lunch or having drinks or whether you want to share a special shop or hotel, you can now do so without even leaving the Messages app.
And if you want to share the location of a contact with privacy in mind, you're covered too: Where To? for iMessage only sends the map area with the name and the address. Your contact details such as email, phone numbers, birthday and notes remain private.